Paper Hydraulic Press
Paper hydraulic press [09-09-14 12:34:53]

Introduction of paper/waste steel/textile hydraulic press
Our paper/textile/paper/waste steel/textile hydraulic press is designed by computer-assistant engineering and high technology. The paper/textile/paper/waste steel/textile hydraulic press has proven high efficiency, low maintenance and energy-saving during years of practice. The company is engaged in paper/textile/paper/waste steel/textile hydraulic press development, production, sales and service.

The product is new generation paper/textile/paper/waste steel/textile hydraulic press based on advanced international technology and many overseas product analysis with optimizing design and high level in domestic market.

We are als excel in establishing all kinds of plants and excute turn key projects.
Our machine adopts advanced technology of Japan PLC. (accessories are imported from USA, Japan, Taiwan) Main parts are: main hydraulic cylinder, oil tank, hopper, bale presser, steel frame, automatic tie system, control system and conveyor. Oil path design is reasonable with good appearance.Automatic feed, press, tie, wire cut, function. Free length adjustment and bale counting. It is safe to operate with high capacity. It is the most advanced automatic environment protecting machine in China.

Products Information of paper/waste steel/textile hydraulic press
CLIMA can supply all kinds of paper/textile/paper/waste steel/textile hydraulic press. we can also design a proposal and quatation just for you.
Please feel free to contact CLIMA if you get any questions.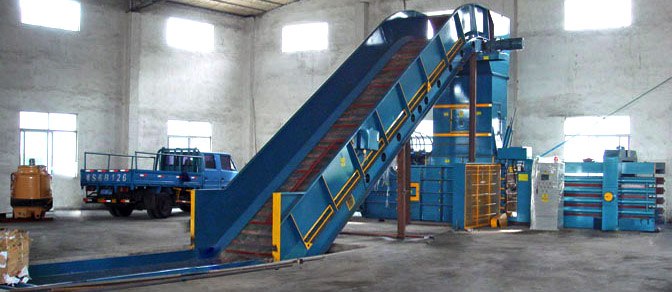 Conveyor configuration:
Chain: Advanced abrasion resistant chain from Taiwan.
Belt: mixed high strength belt from Germany.
Frequent adapter: energy saving adapter
Gearbox: advanced product from Taiwan, Adjust conveyor speed.
Emergency controller fixed at two sides of conveyor.
Furnished with automatic lubricant tank.
Oil pressure and motor system: (water cooling cycle hydraulic system)
Motor: Chinese famous brand (furnished with imported bearing)
Oil pump: imported high performance double combined pump
0°in a long term.
Hydraulic hose: imported from Italy or Germany.
Oil tight accessory: original Japan brand of NOK.
30°C.
Improved oil channel: fluent oil channel design improves efficiency.
Energy saving feature: 3 sets of oil channel design can work independently, save up to 30% electric power.
Improved accessory: adopts most advanced hydraulic effective oil accessory, high quality and durability.
Revolutionary oil channel recycling, enhance the working speed by 25%.
All the data are base on our 20 Calcium Carbonate Line and are only for customers' reference, we can adjust the specification according to your requirements.
Just a few of them have been listed , please contact us if you want any other kinds of machines.